Who were the biggest bodybuilders of all time?
If you have been training for a while, then you will know what it takes to get big, strong muscles. Simply put, bodybuilders often train a lot more than the average person. After all, they have decided that their body will be their tool, their job. It only makes sense that they spend more hours in the gym exercising their bodies. While all of that effort certainly works, by the end of the day, most of the bodybuilders are completely genetically engineered. They have incredible capacity to pack on muscle, and over the years they have simply been able to grow bigger muscles. Years of dedicated training, nutrition and self-confidence are all needed to achieve it.
The biggest bodybuilders on this list come from all over the world, Europe to the U.S., and they have various backgrounds. While some started out as children, taking on their first weight at 11 or 12 years of age, others were late bloomers and began to gain muscle when they were 19 or 20 years old. The biggest bodybuilders on this list have all risen to the top in their sport and have made a significant contribution to the world of fitness.
This is the list of the biggest bodybuilders of all time;
Ronnie Coleman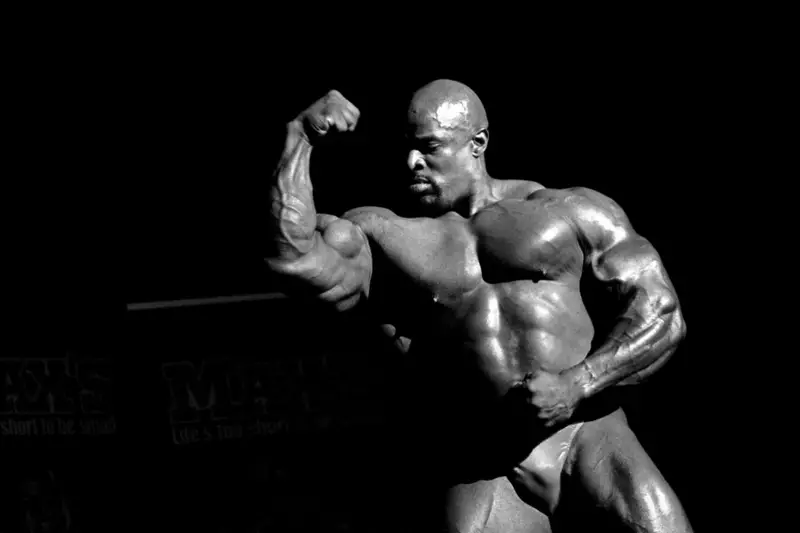 The no 1 on this list of the biggest bodybuilder of all time is Ronnie Coleman, one of the most competitive bodybuilders in the history of bodybuilding. During the the contest season, Coleman usually weighs 305 pounds (138 pounds). In the off-season, he will gain another 25 pounds (11 kilograms). While in college, Coleman played football and started building his body, he became a police officer after graduation.
Coleman began competing in bodybuilding in 1990, winning Mr. Texas. The following year, he won the World Amateur Championship, which enabled him to enter professional competitions. He also won Mr. Universe in 1991 and a string of smaller competitions around the world before taking Mr. Olympia in 1998. Since then, Coleman has won Mr. Olympia eight years in a row, a title shared by bodybuilder Lee Haney. He holds the IFBB's highest winning record, with 26 titles.
Coleman retired after 2007 Mr. Olympia, after a back injury that required surgery and prevented him from competing in the 2008 competition.
Arnold Schwarzenegger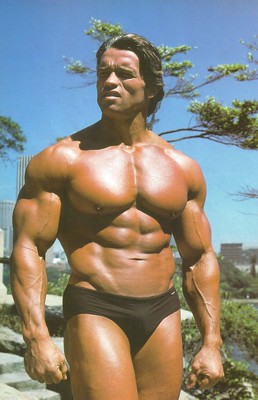 Arnold by Jack O'QUINN is licensed under CC BY 2.0
A natural athlete, Arnold Schwarzenegger, who started lifting weights at the age of twelve, decided at a young age to be "the best built man". He is known as "Austrian Oak" while doing bodybuilding work. After a year of compulsory service in the Austrian army, Schwarzenegger began competing in bodybuilding events. In 1966, at the age of 19, he won Best Built Man in Europe, Mr. Europe and the International Powerlifting Championship.
Schwarzenegger has also won Mr. Olympia seven times and defended his Mr. Universe title in both amateur and professional categories several times. He still holds the record as the youngest Olympia.
He also starred in the 1977 bodybuilding documentary "Pumping Iron" along with other bodybuilders of that era. The film depicts the Golden Age of bodybuilding, in which the sport focused more on definition and less on muscle mass. This was just the beginning of his long and successful film career.
Schwarzenegger retired from the competition in 1970, and returned in 1980 to win Mr Olympia. He continues to support bodybuilding, starting his own competition called Arnold Classic (now Arnold Fitness Weekend) in 1989.
Schwarzenegger admitted that he used steroids before they were criminalized. Some have criticized him for his continued support of the sport, as steroid use is known to be rampant in bodybuilding today.
Lee Haney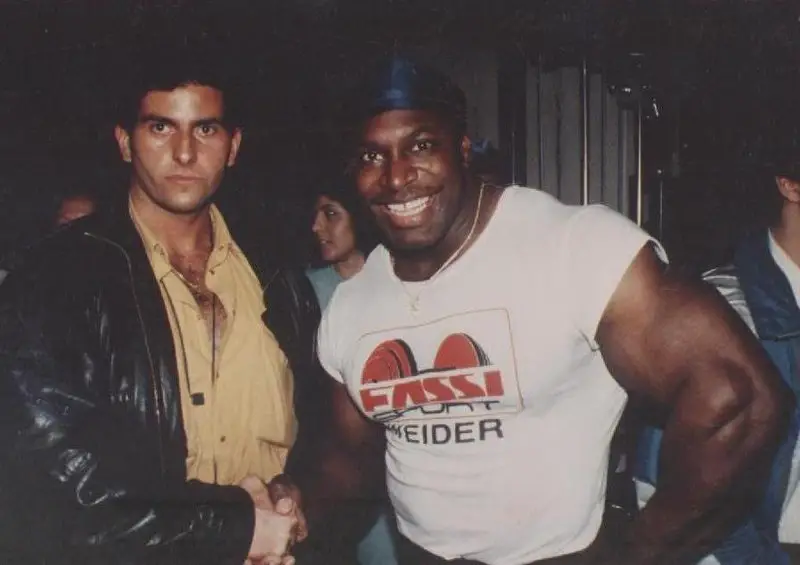 "File:7-4-1988 Lee Haney Mr. Olympia dal 1984 al 1991.JPG" by Ciuffo is licensed under CC BY-SA 4.0
Mr. Olympia is one of the largest, most respected bodybuilding competitions in the world, and most bodybuilders dream of getting the title at least once in their career. Haney has won eight times, in a row. Haney dominated the world of bodybuilding in the 1980s and has retired into a quiet life. Haney lives with his wife and two children in Georgia, and owns two gymnasiums in Atlanta. While working and helping to train athletes, making good use of his years of physical education, he also established a non-profit retreat facility children's center.
Lou Ferrigno
This list of the biggest bodybuilder will be complete without the Incredible Hulk. Lou Ferrigno had a difficult upbringing, as his hearing loss (which came from an ear infection in his youth) led him to become very shy. He was a young youth, reading comic books and dreaming of being as powerful as the muscular characters in the book – and he certainly got that goal. He started weight training when he was 12, and trained very well enough over the next decade that he became the youngest person to win the IFBB Mr. Universe twice. He was also the tallest man who ever did that, and he was the only one to win two consecutive wins. He was also the youngest to enter the prestigious Mr. Olympia contest and he eventually fulfilled his childhood dream of becoming The Incredible Hulk and entering into Hollywood.
Dorian Yates
Dorian Yates was the first Mass Monster to climb the Olympia stage, and he, like Haney, was undefeated Olympia. Dorian has started a new era of bodybuilding, a monster mass size and shredded glutes and hamstrings. He also won 6 Olympias from 1992 to 1997 and was second in his first Olympia in 1991. What makes Dorian Yates one of the best bodybuilders is not only his six Mr. Olympia titles (1992-1997) but also his unique training style. Several bodybuilders train six days a week and, Dorian train four days a week.
The reason was his high level of training, and he achieved full muscle recovery in in shorter yet intensive four days a week. In addition to his accomplishments and granite-hard and conditioned body, Yates' work ethic makes him the icon of many fans. Yates worked 365 days a year with a mechanical focus on training, in a powerful and aggressive way, which was sadly the main reason for his early retirement.
Phil Heath
Phil Heath made his debut in 2006 after discovering bodybuilding in 2002. Before Shawn Rhoden dethroned him from in 2018, Heath won seven consecutive Mr. Olympia, from 2011 to 2017.
Phillip Heath, better known by his nickname, "Gift," as many know it, grew up in Seattle, Washington, and had a good sense of humor in high school. He played varsity basketball and did well enough to earn a University of Denver basketball scholarship.
Although he enjoyed basketball, he wanted his next challenge and found bodybuilding body in 2002 only after college. At his first event, The Rocky Mountain NPC USA Championship "Northern," he weighed 185 pounds to 215 pounds of pure muscle, before cutting down to 192 pounds.
Heath has found a way to really start his career. He trained hard, grew big, and eventually took many other titles, including his IFBB Pro card and seven Olympia wins.
Jay Cutler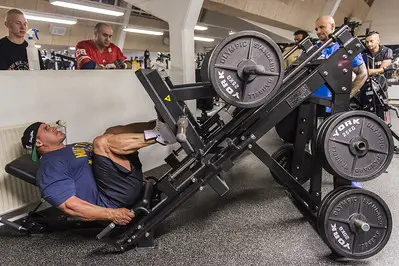 The bodybuilding community witnessed the most rivalry of the biggest competition in the 2000s between Jay Cutler and Ronnie Coleman. Cutler spent most of his career fighting Ronnie Coleman as a runner up, eventually beating Coleman in 2006. If it weren't for Ronnie Coleman, Jay Cutler would be a great bodybuilder to win eight Olympia wins.
Jay Cutler has won four Mr Olympia titles (2006, 2007, 2009, 2010) and six Olympia runner up titles (2001, 2003, 2004, 2005, 2008, 2011). Also, Jay is the only Mr Olympia who loses this race and then returns to win the title.
One of the modern-day bodybuilders Cutler weighed on stage with a staggering 275 pounds. Cutler is considered one of the biggest yet aesthetically appealing bodybuilder in the modern era with his large upper body, feathered quads, and flat midsection.
Roelly Winklaar
Roelly Winklaar is a Dutch IFBB bodybuilder, born June 22, 1977. Nicknamed the "Dutch Beast," Winklaar bulked up to a big size of 320lbs in the offseason and reduced the competition weight by 265lbs. Roelly has one of the most impressive physiques of bodybuilding and is best known for her extraordinary arms.
Some of his best wins include taking first place in the Australian Arnold Classic and fifth place in the 2019 Mr. Olympia. He was named the champion of the people in 2018 Mr. Olympia also has since built a following due to its unique size and premium genetics.
Dennis Wolf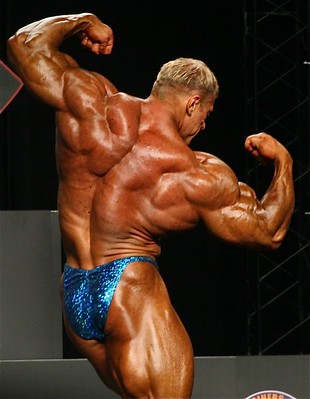 "wolf back twist" by Bigger2B is licensed under CC BY 2.0
Dennis Wolf is a German IFBB bodybuilder, born October 30, 1978. He started training at a young age of 15 and competed in shows at the age of 21. He became a pro in 2005 and made his professional debut at the 2006 World Amateur Championship.
"The Big Bad Wolf," as he is also known, won the IFBB Arnold Classic in 2014, and took fourth place in 2015 Mr. Olympia, which is two of the largest exhibitions in bodybuilding. The wolf is known for its small waist, outdoor quad sweep, and one of the biggest bodybuilders in bodybuilding history.
Gunter Schlierkamp
Not all famous European bodybuilders come from Austria – Gunter Schlierkamp, ​​a retired German IFBB Pro, from Olfen, Germany. However, it was the Austrian muscle machine that inspired Schlierkamp – he saw Schwarzenegger in one of his films and was inspired to sculpt his body. He started training at the age of 16 and entered (and won!) His first competition at the age of 18. He won the title of Mr. The Universe in 1993, moved to the U.S. 1996 – like Arnold! In addition to competing, Schlierkamp has done modeling, acting and often works with companies as a consultant in product development.
Dennis James
At a competition weight of 260lbs Dennis James was the force to be reckoned with. James was born in Heidelberg on May 31, 1996, and began his bodybuilding career at the age of 18. He won his first competition in 1985 and competed for the Mr Olympia title for the first time in 2000. James 'placed 4 on Mr. Olympia of 2003, which became his top spot in the world's largest bodybuilding exhibition. In the off-season, James was known to weigh around 300lbs, cutting to a 260lbs weight competition average.