Arnold Schwarzenegger blasted his way to stardom, in blockbuster films like Terminator, Conan the barbarian but his rose to the top was not smooth. He was a bodybuilder from Australia with a thick accent and had no acting experience and when he came to Hollywood telling people that he was determined to be a star, he was laughed at but what people didn't know about this former Mr. Olympia was that his most developed muscles were his brain.
They called him an Australian oak, a farm boy from where he would hold the title of the youngest Mr. Universe in history, went to America with only his exercise bag, and less than 10 years ago he popularized the bodybuilding sport and capturing the heart of the Kennedy family marrying Maria Shriver. He built a multi-million dollar business in the state and even led the presidential fitness council. Arnold Schwarzenegger is still a star, an icon and has achieved his ultimate dream.
Arnold Alois Schwarzenegger was born on July 30, 1947, to the family of Gustav and Aurelia Schwarzenegger. He was raised with his older brother Meinhard, in the small town of Thal, just outside Graz, Austria. Arnold's father, Gustav, was the local police chief, and the family lived above the police station where Gustav worked.
Although Arnold's parents were attentive and involved in their lives, Gustav Schwarzenegger was an expert and a disciplinarian expecting the highest levels of performance in his sons, the average athlete himself Gustav encouraged both boys in athletic competitions, even though he often loved his eldest son meinhard.
By his early teen Arnold was already a teen athlete, a soccer player in his soccer team. The day his soccer coach brought the team to training, Arnold watched the dedicated team of bodybuilders in awe. Something inside has just clicked, felt the sticky sound of the metal against the metal, grabbed his first barbell and knew he had found his love.
Kara manin the owner of the gym where Arnold started training took him under his wings and introduced him to training techniques and muscle magazines and bodybuilding pictures like reg park and Steve Reeves, Arnold hung pictures of his heroes in his room, dreamed of being like them.
Six days a week Arnold walked or cycled eight miles from the nearby thal to Graz to work for hours and sometimes collapsing on the floor, once he even broke a window in the gym so he could train on Sunday, his parents were at shocked his obsession in what they called the unpopular sport in Australia.
Gustav imposed a rule that his 15-year-old son would only be allowed to train at graz 3days a week. The undaunted Arnold built a gym at home and focused on the goal that shone like a beacon before him, his confidence grew along with his muscles and the 3rd success rate achieved in those days would be his lifelong creedo, a combination of hard work, confidence and positive thinking.
For those who worked with him in the gym Arnold's dedication was inspiring but also admired his enthusiasm and disrelish sense of humor.
From the age of 14 to 18, Arnold's first priority was to the gym, and in 1965 he enlisted in the Australian army for a one-year compulsory service. His parents sighed in relief and maybe the military would cure him of all the consuming passion for the gym, but they were wrong.
Bodybuilding career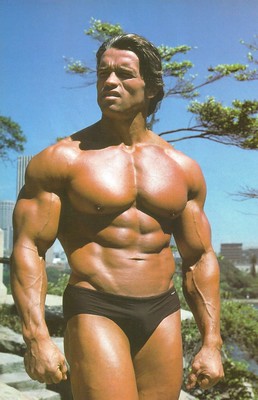 Arnold by Jack O'QUINN is licensed under CC BY 2.0
During basic training ArnQold heard about Mr. Europe bodybuilding competition, he sneaked out from his unit to compete for it which was his first bodybuilding competition, winning the trophy Arnold tried to sneak back to camp, but he was caught and arrested and imprisoned for 7 days, but when news of his victory reached the authorities, they made him a hero and even instructed him to continue training his training.
By the end of the service he had gone from 200-225lbs of muscle and was ready to prepare for more serious competitions.
When 19-year-old Arnold Schwarzenegger arrived in Munich in 1966 he was a small town boy frustrated by the bustling city that accepting an invitation to train and manage a health and bodybuilding club. By the time he entered and won the 1966 Mr. Europe contest, he had already become a bodybuilder legend throughout Austria and Germany.
It was Arnold's unwavering confidence that drew him to London in September 1966 to compete with Mr. universe title, a 19-year-old Arnold took its place among the amazing world's bodybuilders and won the 2nd place prize.
He returned back to Munich knows his weaknesses better and is more determined than ever to take the title next year. When he finally returned to London for the next Mr. universe contest, he already knew he was a winner, at the age of 20 he became the youngest Mr. universe in history.
In 1968, Arnold Schwarzenegger won the Mr. universal title which attracted the attention of Joe wielder the king of bodybuilding publishing empire, weilder invited him to compete in America.
Arnold Schwarzenegger has set foot on the world of his bodybuilding dream with an exercise bag and rarely speaks English, and is ready to take on his first American Mr. universe contest but when he stepped on the stage in Miami he was amazed to see the condition of other competitors, the American competitors were more leaner, tonner and better defined than the 250lbs Australian oak. Taking second place Arnold was crushed, he was alone in a strange country where he was not the best.
Weilder became Schwarzenegger's mentor and agreed to support him for a year.
He sent the young champion to gold gym in Venice, California where top bodybuilders train. From joe, Arnold learned coaching techniques and the secret of joes multi-million dollar empire which encouraged Arnold to start his own mail company by selling his training cards and manuals and like everything else in life he was determined.
In 1969 Arnold Schwarzenegger won his first IFBB Mr. universal title in New York, in 1970 he won the Mr. Olympia title where he reigned supreme to record for six years in a row.
In the midst of this victory, there was a tragedy back in Australia, his brother Meinhard died in an accident, shortly after which Gustav Schwarzenegger died of a stroke.
In November 1975, Schwarzenegger held his sixth Olympia trophy in front of a cheering crowd and announced his retirement from bodybuilding competition.
At the age of 26 Arnold Schwarzenegger was already an undisputed world bodybuilder, and moved on to the second phase of his dream to pursue his movie career.
Powerlifting/weightlifting
During Schwarzenegger's time and early years of bodybuilding, he also competed in powerlifting and Olympic weightlifting competitions. Schwarzenegger won two weightlifting competitions in 1964 and 1968, and two powerlifting competitions in 1966 and 1968.
Schwarzenegger won the Munich stone lifting contest in 1967 where he lifted a 50-pound stone in between his two legs while standing on two-foot rests.
Personal records
Clean and press 264lb (120kg)
Snatch 243lb (110kg)
Clean and jerk 298lb (135kg)
Squat 545lb (247kg)
Bench-press 520lb (240kg)
Deadlift 710lb (320kg)
Competitive statistics
Height: 6'2 (188cm)
Competition weight: 235lb (107kg)
Season weight: 260lb (120kg)
Arms: 22 in (56cm)
Chest: 57 in (140cm)
Waist: 34
Thighs: 28.5
Calves: 20
Steroid use
Arnold Schwarzenegger admitted to using anabolic steroids while they were legal, writing in 1977 that "steroids were helpful to me In keeping both size of muscle while on a solid diet to prepare for a competition. I did not use them for muscle growth, but instead for muscle maintenance while cutting". He called the drugs "tissue building".
Acting career
In 1970, the year Swwarzenegger won Mr. universe. Joe Weilder received a call from a filmmaker looking for a bodybuilder to play Hercules in the low-budget film. Hercules goes to New York became Arnold first movie in Hollywood.
Always determined to work harder and better, Arnold began acting lessons in 1974 after his cast in the movie "Stay Hungry" it was a supporting role and Arnold was determined to make a good impression.
For his role as a bodybuilder in "Stay Hungry", Arnold won the Golden globe Award for the best new star of the year. Arnold talked about his struggles in his acting career about how difficult it was for him how he was rejected by agents and casting producers due to his muscular physique and accent. But that didn't hold him back.
Arnold Schwarzenegger drew attention and enhanced his profile in the bodybuilding film Pumping Iron (1977), he also made guest appearances in single episodes of the ABC sitcom shows San Pedro Beach Bums and the ABC police procedural the streets of san Francisco.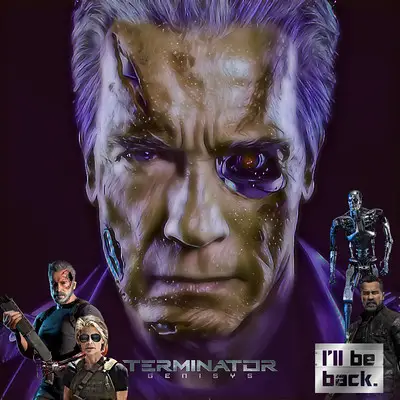 "Arnold Schwarzenegger" by Stephen Alan Luff is licensed under CC BY 2.0
Schwarzenegger audited the role of The Incredible Hulk position but did not win the role due to his height. Later, Lou Ferrigno got the role where he played Dr. David Banner.
In 1982, Arnold played the role of Conan the Barbarian, based on a comic-book hero of the same name.
Critics panned his performance, saying it was impossible to understand his German-speaking English. The audience, however, liked the movie, which turned out to be a box-office hit. Two years later, in 1984, Schwarzenegger landed a major hit in his movie career when he appeared in the movie The Terminator
In the Terminator, Schwarzenegger played a violent cyborg (part robot, part human) sent from the future to exterminate the mother of the future human leader. Despite the critics about his acting skill and his accent, the movie terminator became a hit and popular in the movie industry gaining Arnold a lot of fans and sold worldwide. The movie was so popular that Arnold was known for a famous line in the movie "I'll be back.
Schwarzenegger proved himself to be a perfect action hero. He has followed The Terminator with a string of movies, including Commando (1985), Predator (1987), Total Recall (1990), and True Lies (1994). He also starred in other Terminator movies such as Terminator 2: Judgment Day (1991) and Terminator 3: Rise of the Machines (2003). For his role in Terminator 3, Schwarzenegger was paid $ 30 million.
In addition to starring in action hero movies, Schwarzenegger starred in a number of comedies, including three films by director Ivan Reitman: Twins (1988), Kindergarten Cop (1990), and Junior (1994). Movie fans have embraced Arnold's simple side, and critics admit that Schwarzenegger was growing as an actor. Everyone agreed that he was a Hollywood movie star. In fact, in 1993, he was honored as the International Box Office Star of the Decade.
In 2004 Schwarzenegger had appeared in nearly 30 movies, and he brought his own unique style to each role. Comedians and critics have made a lot of jokes about how Arnold spoke, but Schwarzenegger seemed to take it lightly. Schwarzenegger has also explained in n interview that he didn't want to erase his name completely that his name has become his trademark in making who he is.
Political activity
During the 1990s, he became active in the Republican Party at both state and national levels. Arnold Schwarzenegger's first political appointment was chairman of president council on physical fitness and sports which he served from 1990 to 1933, and was nominated by George HW Bush who called him "Conan the Republican".
He also served under governors Pete Wilson political career as the chairman for California governor's council in physical fitness and sports.
In 2003, Arnold Schwarzenegger was appointed as the 38th governor of the state of California.
Schwarzenegger's most remarkable achievement while as governor include; he introduced the Global Warming Solutions Act of 2006 an agreement between rivals to combat global warming by reducing California's gas emissions and transforming the civil service compensation system reducing costs by more than 35 percent.
He also founded the Hydrogen Highway and the Million Solar Roofs Plan. In November 2009, more than three years of Governor Schwarzenegger's leadership came to an end with the passing of the Safe, Clean and Reliable Water Supply Act of 2010.
As governor, he was an extremely effective marketing tool, traveling nationally and internationally promoting California's advanced products, cutting-edge technology, and various state-of-the-art travel destinations. Schwarzenegger also made health and fitness a top priority in California.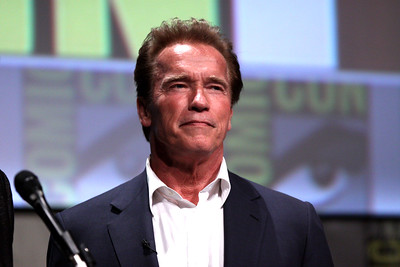 "Arnold Schwarzenegger" by Gage Skidmore is licensed under CC BY-SA 2.0
He has signed a law that makes state school nutrition standard as the best for the nation and continues to promote healthy habits by removing harmful trans-fats from California restaurants.
Improving classes across the country and ensuring that all California students have access to the world-class education they need to grow, thrive and succeed, Schwarzenegger led a transformation that made California compete for up to $ 700 million in the Federal Race to the top funds.
In recognition of these efforts, Schwarzenegger has been rewarded for his outstanding leadership and vision in many areas, including the Simon Wiesenthal Center's "National Leadership Award" and the American Council On Renewable Energy's "Renewable Energy Leader of the Decade."
Schwarzenegger's commitment to contributing something to his country through community service gives him great satisfaction; donating his time, energy, and personal resources to serve others worldwide. Schwarzenegger serves as Chair of the After-School All-Stars, the national after-school program, and also serves as coach and head of international special Olympic.
In August 2012, the University of Southern California Schwarzenegger Institute for State and Global Policy launched to provide students with an opportunity to focus on leadership skills beyond intelligence to implement the most effective policies for the people they serve. The five main areas of concern are education, energy and the environment, economic policy, health, and political change.
In 2014, Schwarzenegger combined his passion for global issues and entertainment to work as a leading producer and writer at Showtime's Emmy winning climate change docu-series, years of living dangerously.
Business career
Arnold Schwarzenegger had a very successful business career following his move to the united states, making a lot of hard work and smart business dealings becoming a millionaire long before he made a major impact in Hollywood.
The famous anecdote Schwarzenegger likes to tell from his youth is about a time when his family bought a refrigerator, causing them to stand around it and take turns opening and closing to feel the cold air brush on their hands and face.
Independence stemmed from his success as a budding entrepreneur through a series of lucrative businesses and investments. In those early days, his business was already emerging.
He started a brick-laying business with his bodybuilder friend Franco Columbus and used his profits to start a postal order business by selling bodybuilding equipment. He later used his winnings in his bodybuilding competitions to invest in his first real estate business an apartment building that cost $ 10,000.
He had a passion for real estate, overtime he later went on to invest in a number of real-estate holding companies.
He owns a number of real estate companies in Venice, California and has a stake in a complex of office buildings, luxury homes, shopping malls and Schatz a restaurant he founded in 1992 with his wife Shriver which he later leased.
Here, however, is another bodybuilder who realized that brawn should be compared to the brain. The economics degree he received in 1977 came into effect when he entered the business world.
Schwarzenegger is also the owner of the Arnold sports festival that he started in 1989 and is held annually in Columbus, Ohio. The sports festival hosts thousands of international health and fitness professionals.
He talked about some of those who helped him over the years in business and guidance like Donald trump, Milton Friedman, warren buffet and lex Wexner.
Schwarzenegger's value was estimated at $ 100 million $ 200 million, after he broke up with his wife Maria Shriver in 2011, it was estimated at $ 400 million.
In June 1997, Schwarzenegger spent $ 38 million on a private jet stream and his preferred modes of transport included the Porsche 911 Carrera convertible, Mercedes sl600, el dorado Biarritz convertible, 4 hummer Humvees and Harley Davidson motorcycle.
Personal life
First relationship
His first relationship was with English teacher Barbara outland baker. Barbara dreamed of a normal family life, Arnold hated the very idea of ​​such a lifestyle, baker had described Arnold as "a happy, full-fledged, playful and sports-loving man" but said that towards the end of the relationship he became "intolerant extremely proud the world revolved around him".
In July 1977, Schwarzenegger met his next girlfriend, a Beverly Hills hairdresser assistant Sued Moray, on the Venice beach.
Arnold later went on to meet television journalist Maria Shriver, nephew of president John.F.kenedy, at the Robert f. Kennedy Tennis Championships in August 1977. He continued to have relationship with both Moray and Shriver until August 1978.
Marriage and family
In April 1986, Arnold Schwarzenegger and Maria Shriver were married in Hyannis, Massachusetts.
They had four children; first child Katherine Eunice Schwarzenegger, Christina Maria Aurelia Schwarzenegger, Patrick Arnold Shriver Schwarzenegger, and Christopher Sargent Shriver Schwarzenegger, the children were born in Los Angeles. The Schwarzenegger's lived in a large house in Brentwood.
Arnold raised his children strictly, he made them exercise every morning and keep their rooms clean. When he saw the scattered objects, he threw them into the furnace.
Divorce
In May 2011, a major scandal erupted. The actor's adultery was revealed as it turned out, a man who was considered a role model for the family was dating a housekeeper, and her illegitimate son Joseph was born. Arnold told his wife about it and soon after resigning from his position as governor, the couple divorced.
Following the divorce decree, Schwarzenegger kept the Brentwood home, and Shriver bought a new home nearby so that the children could come visit. They share custody of the two youngest children.
Autobiography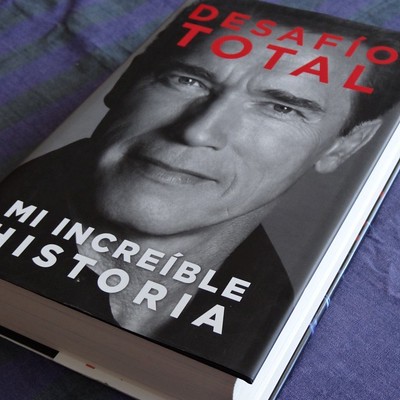 "Terminado:  by AlexAndradeSan is licensed under CC BY 2.0
Arnold Schwarzenegger's autobiography, a total recall released in October 2012. He puts one chapter called "the secret" of his extramarital affair. Much of his book is about his success in three major chapters in his life; bodybuilder, acting, and governor of California.
References
http://www.notablebiographies.com/news/Ow-Sh/html#ixzz5PCbb3avu
https://en.wikipedia.org/wiki/
http://www.schwarzenegger.com/bio